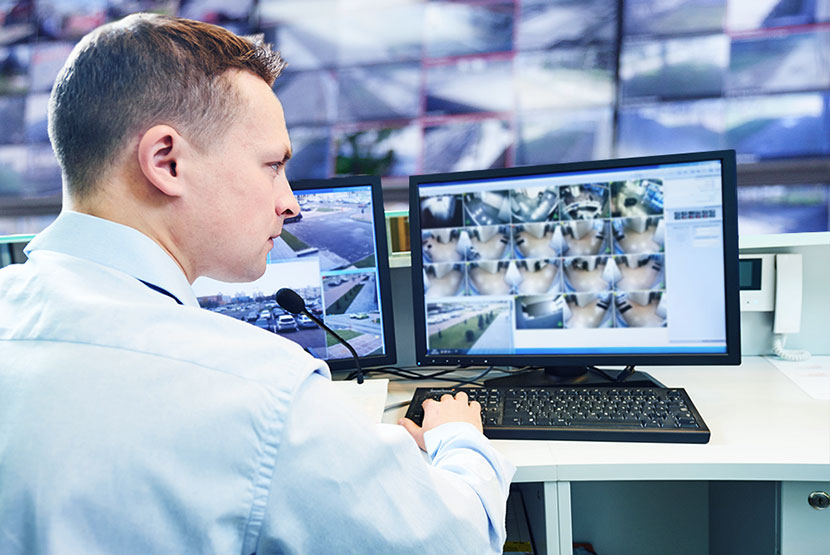 You can't be everywhere at once to enforce reopening rules. With Live Remote Guard, you don't have to be.
Increased sanitization, social distancing, signage, and the use of personal protective equipment (PPE) are all effective ways to protect your employees, customers, and assets as the nation goes back to work. However, you can't be everywhere at once to enforce these new regulations. A Live Remote Guard system allows a trained specialist to monitor for compliance and even give audio announcements when someone can't physically be there to enforce. This comprehensive intervention solution will increase the likelihood of safety measure compliance in your efforts to reopen.
Patterns of Compliance
A Live Remote Guard acts as a virtual Remote Doorman. It checks employees and guests into a gated or unmanned lobby. Through the check-in process, it records the individual's information and if they meet the requirements to enter, such as employee credentials, preauthorized entrance, virus testing requirements, or PPE use. If requirements are met, they can open the gate or door. If the person doesn't not only will they be denied entry, but non-compliance events can be recorded in association with the individual's existing credentials. This information can be used to determine patterns of non-compliance.
Monitoring Compliance with Video
Live Remote Guard video surveillance is equipped with the ability to collect audio and visual data. Such data can then be used to record visual proof of whether employees are PPE compliant or not when entering inside your facility.
Reduced Personnel = Reduced Viral Spread
With new regulations centered around occupancy for the enhancement of social distancing, reducing the number of individuals at high throughput areas can help to reduce the spread of infectious diseases. If you're a business that has traditionally relied on guards for access control, it may be time to consider the benefit of having surveillance, access control, and enforcement occurring remotely versus in-person.
It's Time to Consider Your Options
If you're feeling vulnerable to unforeseen security threats as you reopen your business in compliance with COVID-19 regulations, Eyforce Remote Guarding Solutions has your evolving security needs covered. While you've likely implemented social distancing measures, signage, and sanitization processes, it may be difficult to evaluate additional measures as they pertain to your facility's particular infrastructure without disrupting workflow and business. 
Visit: www.eyeforce.com/remote-guard-access-control or call 888-393-3672 today to speak with an expert in customizing your evolving security needs.